Getting to know Yarn weights
•
Posted on July 13 2021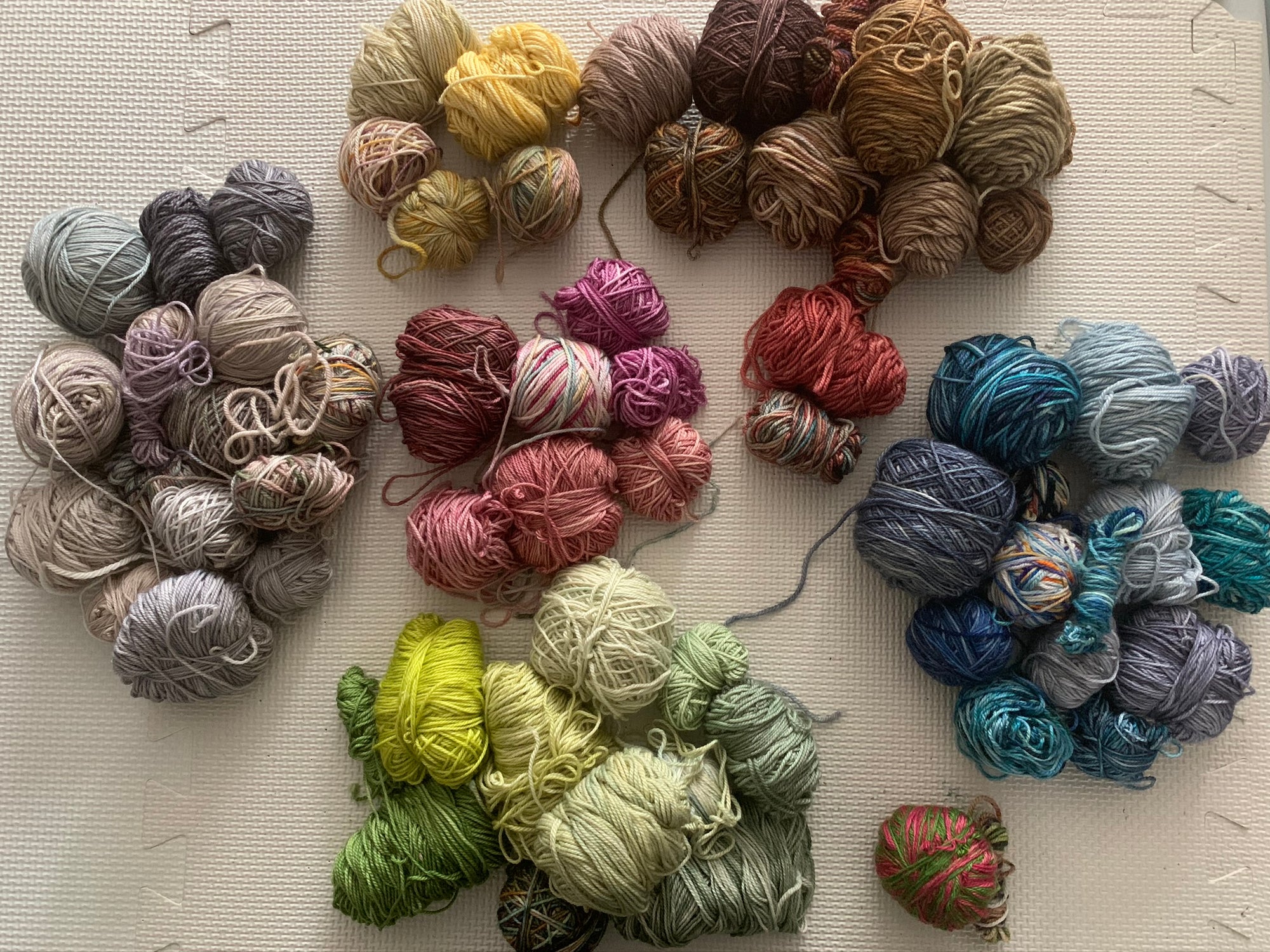 Getting to know Yarn weights
(chart excerpt from CraftYarnCouncil.com, the full chart can be found here)
If you are going to knit, you are going to need to know the basics about yarn weights, knitting gauge and needle sizes. Every knitting pattern will have a materials list where it suggests what yarn to use and/or what weight of yarn is required to successfully complete the pattern as written. It will also suggest to you what size needle and the gauge required to successfully knit the garment. With this information, you can then go and choose your yarn and your needles.
Note: Knitting is one of the few places where I make use of both metric and Imperial measurements simultaneously. I refer to my needles in mm (millimetres), I measure in inches and usually think of my quantity in yards. I think most yarn labels offer information in both "languages" so pick the one that is most comfortable to you. 
Standardized  Weights, Gauge and Needle Sizes
If you look at the chart above, you can see that there are 8 different weight classes as indicated in the yarn symbols and they range from 0 to 7, Lace to Super Bulky. Each weight of yarn falls into a standard weight category that has been set by The Craft Yarn Council. Each weight of yarn has a recommended gauge and needle size to get that gauge. This is what you need to know when choosing yarn for your project. For example, If a pattern calls for fingering weight yarn, you will need to look for fingering weight yarn. If a yarn calls for worsted, you will need to look for worsted weight yarn.
Within each yarn category, there is some variance. For instance, if you look at the Medium Weight 4 you can see that the gauge ranges from 16 stitches to 20 stitches over 4 inches. The worsted weight would knit up closer to the 20 sts/4" while the Aran in this category would knit up closer to the 16 sts/4". When choosing yarn for a pattern, consider purchasing yarn that is similar in gauge to that suggested in the pattern. If you choose an Aran weight yarn that is happiest knit at 16 sts/4" and you knit it at 20 sts/4", you may find the fabric a bit stiff. Likewise, if you choose a worsted weight yarn that is happiest knit at 20 sts/4" and knit it at 16 sts/4", you may find the fabric sloppy and without the necessary structure.
Now that you have chosen a pattern and your yarn, it is time to consider your needle size. Using the Worsted weight yarn as my sample again, I see that it is recommended to knit it using a 4.5mm needle. However, the pattern may suggest using a different needle size, say a 4mm instead. This may be because the designer is a loose knitter and used a needle size smaller to get the gauge they wanted. Depending on if you too are a loose knitter, you may find that this needle size works for you. But if you are a tight knitter then you may need to use a larger needle to get the same knit gauge. Only swatching will determine if the size of the needle suggested will be the same size as the needle you ultimately use. AND, you must swatch as specified in the pattern. 
If you are knitting flat, you swatch flat. If you are knitting in the round, you swatch in the round. The reason for this is that many knitters will have one gauge for a knit row and another gauge for a purl row. If you are knitting stocking stitch flat (back and forth) the gauge will be averaged out over time. When knitting in the round, you are only ever knitting, never purling a round so your stitch sizes are more consistent. Thus, the gauge will be different.
I am going to repeat myself here.
The needle size in any pattern is always just a suggestion. You must swatch to determine if you can get the same gauge using the same needle size. If you don't, then you will have to swatch again with a smaller or a larger needle. When knitting garments and you want to get the size you have chosen, the gauge is extremely important. One stitch, or even ½ a stitch off gauge can make a huge difference in the overall size and in the quantity of yarn required. Make a large swatch too as the first 4" may differ from the 2nd 4". If making a sweater I always buy extra yarn so I can make a large swatch or I knit a hat if I am knitting in the round or I start with the sleeve if knitting bottom-up in the round or flat.
One more thing about yarn weight.
When choosing yarn for a project pay attention to the yardage/meterage of the yarn suggested and the yarn you are hoping to use. You may find a skein of fingering weight yarn that has 385 yards per 100 grams and another at 485 yards per 100 grams. Typically, most fingering weight skeins are between 400 and 435 yards/100 grams but you need to read the label to be sure. Not only will this impact gauge but it may change the number of skeins you will need to purchase for your project.
There are some exceptions to these rules.
It is very important to have an understanding of yarn weights and to recognize that some designers and some projects will stray from the standard. Most notably, shawls. Shawls are most often knit with a larger needle and at a looser gauge than the standard. This is because shawls are meant to have more drape than a sweater or a pair of socks. You want a gauge that closely matches that of the designer for that garment.
I have however come across more than a handful of sweaters that the gauge and needle sizes used vary significantly from the standard and this can be confusing. For instance, I have seen a sweater knit with a fingering yarn but has a DK or worsted weight gauge. This can be very intentional like in the Love Notes sweater by Tin Can Knits. The designer purposely aimed to have a very lightweight fabric that is open and airy. If you only choose yarn based on gauge and needle size, you would be looking to purchase an Aran weight yarn and it would dramatically change the outcome of the sweater. If you look at the project pictures for Love Notes you can tell what the designer intended for this garment. This is not as obvious for some other designs and you will need to seek advice from your LYS or rely on your knowledge of yarn weight standards to make the right choice.
One designer comes to mind who frequently knits outside standard yarn weight/gauge and that is Jennifer Steingass of Knit.Love.Wool. She has amazing patterns and I have many in my queue to knit. However, when I first looked at her yarn suggestions, the gauge and the needle sizes, I was confused. Many of her fingering weight patterns are knit in what would be considered a DK gauge using needle sizes suitable for a DK weight yarn. I would never get anywhere close to gauge using her suggested yarn and needles. So I had to assume she is after a lighter, airier fabric for these sweaters and I would need to knit some swatches to see what yarn would best achieve these results. The other option would be to pick a yarn that best matches the standard for the gauge. So a gauge of 22 sts over 4 inches would be a DK and I would consider knitting that sweater in a DK weight or possibly a sport weight, swatching to see what fabric I preferred. Either way, swatching is a mustNote that whenever you stray from the pattern, the total yardage will probably change. Purchase your yarn accordingly as you will want your yarn from the same dye lot.
Brigit Hampel
The Enabler Queen
This article is part of the Build Your Skills mini workshops.