Ravelry Basics Part 2
•
Posted on July 07 2021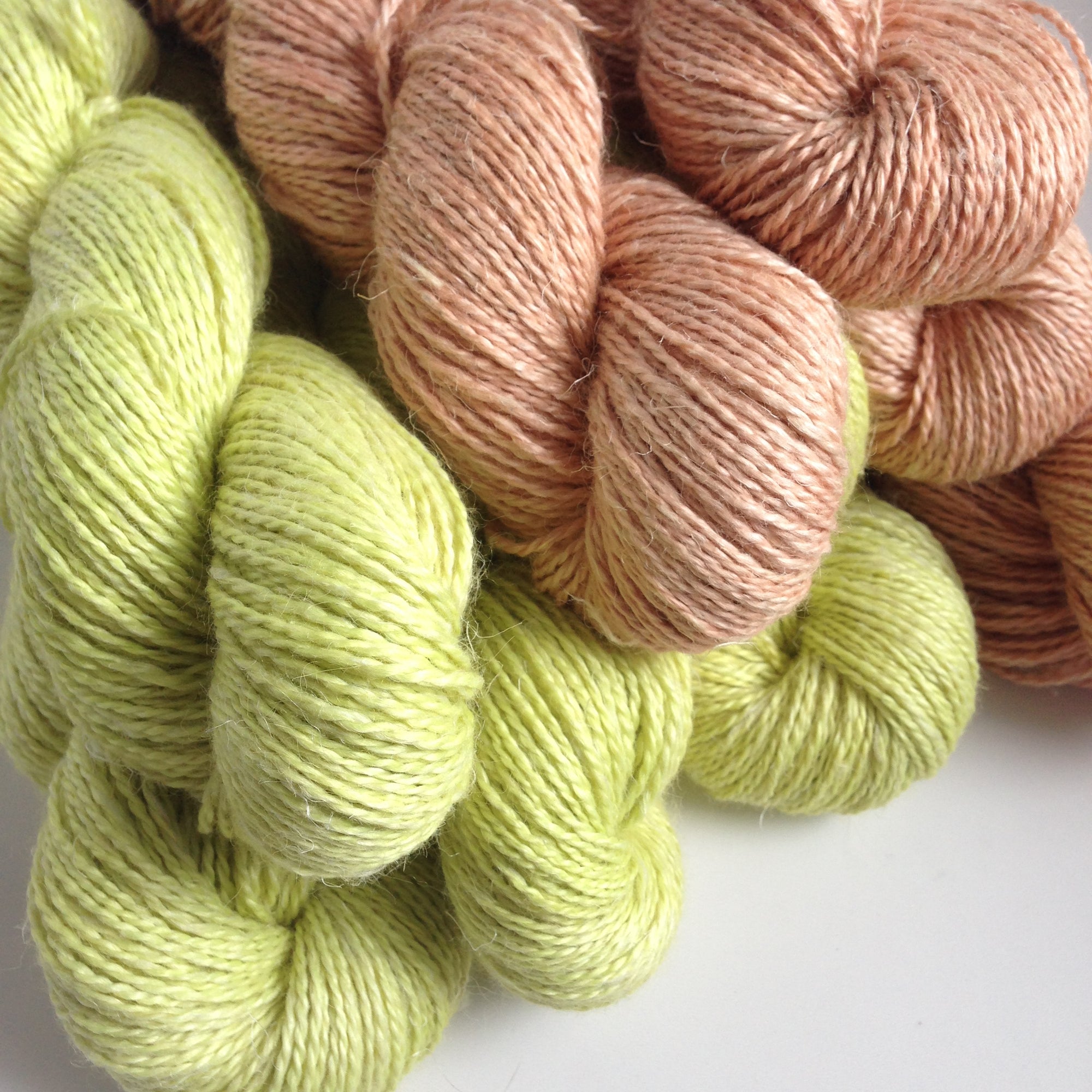 What is in your Stash
Are you one of those people who only buy yarn for the project you are about to knit or are you one of those people who likes to have enough yarn to keep you busy for decades?
Either way, I think it is beneficial to keep track of what you purchase. Doing so in Ravelry allows you to keep notes on the yarn just in case you need to reference that information in the future. One of the very first things I do when I bring a new purchase home is entering it in Ravelry so that details of the purchase are fresh in my mind. It only takes a few minutes unless you made a large purchase of several different colours or types of yarn, which may take you a few extra minutes but well worth the time invested in this process.
One of the many benefits of keeping an inventory of your stash in Ravelry is that when searching through patterns you may want to knit, Ravelry will show on a patterns page any yarn you have in your stash that was used to knit that project. Look for In My Stash when reviewing the details of a pattern to see how many yarns you have that other knitters have used. It may be just one or it may be several. This allows you to look at those projects to see how they look in your yarn or if the other knitter has kept notes, details on how that yarn performed in that project. Another benefit of stashing your yarn information is when you add a pattern to your queue, you have the added benefit of assigning a specific stash to that project.
To add to your stash inventory, go to My Notebook and choose Stash from the drop-down menu. You will see an option on the top left of your screen the Add to Stash button. Click/tap on that to bring up the details form. The first page will ask you to fill in the details of where you purchased the yarn, what that yarn is, yarn name and company. Then Continue.  
The next page will ask you to provide more details on your yarn. For instance, if you said you had purchased Wool U Knit from Yarn Indulgences, the next page will ask you to specify which of the Wool U Knit yarns you want to add. Make your choice by clicking/tapping on choose this yarn. Doing so will take you to the details page.
Now fill in the details; colour, number of skeins, date of purchase, the amount spent, etc. You can add notes if you wish and then choose to Save or if you have another colour of that same yarn you may wish to Add a Colorway instead. If you have a few colours of the same yarn you can choose this option so that you will not have to fill in all of the general details each time, just the colour and quantity until you are finished with that yarn. Once you are finished adding all the colours you can just Save your information unless you have a different yarn from the same store, then you may choose to Add a New Yarn. If this is the case, choose that option. For example, I have some Zed Lux I want to add. By choosing Add New Yarn, the store info is saved and you just need to add yarn specifics as before. Continue until all your new yarn is added and then Save. It is pretty straightforward. Just fill in the forms and save each time you make a yarn purchase.
You can add photos by choosing that option on each yarn's stash page by either saving a photo from the company's website or taking a photo and uploading it. (more on adding photos later)
At any time you can go back to any entry and add more information, photos and notes. Choose edit, add new information and then save. This process does not take that much time, and the rewards make it highly worthwhile.
The Queue
I love my Queue and visit it often. Like my stash, I have a queue that may require an additional lifetime to knit through as I somehow think I must knit an insane number of projects. Every once in a while I reexamine my queue and delete a few but usually, I just spend time rearranging the order. You may want to keep a more realistic Queue that reflects the projects you really can knit in the foreseeable future.
To add a pattern to your queue, visit that pattern page and look to the upper right and you will see the Add to Queue option. Click/tap on that and enter any information you may have at this time. If you have the yarn in your stash you can click/tap on use my stash and a drop-down menu will appear with all your stashed yarn of the weight used for that pattern.  You can choose from that list or if you plan on using something from a different weight category, you can change that option. If you need to shop for the yarn, you can opt to just add the yarn name. You can fill out as much or as little info as you want and then save or save and adjust position. 
A pattern will automatically be saved to the back of the queue by saving a queued project, the last entry. When you save and adjust position, you can immediately save it to the front of the queue or anywhere else. You can set up your next 10 projects in the order you wish to knit them in and assign all these projects yarn from your stash. You can even assign a timeline for when you need/want to have the project finished. 
Simply by visiting your queue from My Notebook, you can rearrange the order of your projects.  You will see an up arrow to the left of the box where the number in the queue your pattern is. Click/tap on the arrow and it will move that queued item to the front of the queue. The other option is to look underneath the box where it shows 1-,2-,3-. Using this option will open on your queued items list and you can click on where you want to place that project and then save it. The best way to learn how to move projects around is to go in and play around. Follow the instructions provided on the screen and then you can cancel or save. Once you are happy with the order, save your edits.
Are you ready to start a project? You can do so from your queue. When viewing your Queue you will see some options on the right and you can choose to start a project from any queued item by simply clicking/tapping on start project. Starting a project from your queue brings with it all the information you may have previously assigned to that project. You may start a project from anywhere in the queue so you can jump order if you wish.
One more thing to note here is that items in your Queue should be those projects you actually plan on knitting. This differs from patterns you have added to your Favorites as those are patterns that you like but have not committed yourself to knit sometime in the future.
This takes us to the Project Page.
Setting up and maintaining a Project Page.
The project page is your best friend, the one who keeps track of everything you will ever want or need to know about the project you are working on. If you fill out as much information as you can when starting a project, you need not have a great memory because all the info you may need will be there waiting for you. Begin by adding your start date, then add all the specifics such as size, needle sizes, gauge and any specific notes you may need for future reference. I can't stress how helpful this information will be if you ever put down a project and come back to it later and need to know where you are in your pattern. I suggest you take notes on any modifications, used a specific technique not outlined in a pattern or if you want to refer to a video tutorial you may have used. I add links to these tutorials all the time on my project page. The more notes the better and update them as you go. Remember to save once you finish editing.
I like to keep track of just how much yarn I used on a project. I keep a kitchen scale in with my knitting tools to weigh my yarn to see how much I have consumed, whether it be for a row, a repeat of the pattern, or the total amount used. For example, I am knitting a scarf that has a couple of inches of ribbing at the beginning and the end and I want to use up as much yarn as possible for everything between the ribbed sections. I start by weighing my yarn at the beginning before I even cast on. I have 100 grams. I now knit the first ribbed section and then weigh my yarn again. I have used 10 grams of yarn. Now I know I need to save at least 10 grams of yarn to knit the ribbing at the end of my scarf. No need to guess. Just add the note on how much yarn I used and then proceed with my knitting.
At the end of a project, you may find you have leftovers. Maybe you purchased 10 skeins of yarn for a sweater and you used 9 full skeins and a part of the 10th. Weigh the remainder of that 10th skein and see what you have. If you started with a 100-gram skein and have 73 grams remaining then you know you used 27 grams of that skein. When entering the quantity of yarn used for that colour, you would enter 9.27 skeins. The remainder will remain in your stash and could be used on another project, possibly a matching hat. By entering in the specific amount of yarn used, you will know how much you will need if you ever want to knit that project again.
And the best part is, when considering a new project that requires only small amounts for accent colours, you can look to your stash to see if you can utilize your leftovers for that new project instead of buying a new full skein of yarn. All of my leftovers go into a large Ziploc bag so that I can keep all like yarns together. So all of my Zed Luxe leftovers go into a bag, my Rustic fingering goes into another bag…
The important takeaway from keeping good notes is that any and all information you record on your project page is there for future reference. Not only will you be helping yourself but keeping good notes also helps other knitters. If someone wants to knit the same pattern as you, they can view your notes and get helpful information they may need for knitting their project. I often look at other people's projects to see if they have tips on the pattern or if I need to see how much yarn they used for a specific size etc. It is nice and very helpful to be a part of a large virtual knitting community.
Brigit Hampel
The Enabler Queen
This article is part of the Build Your Skills mini workshops.