Teach Yourself Brioche Knitting
•
Posted on August 30 2021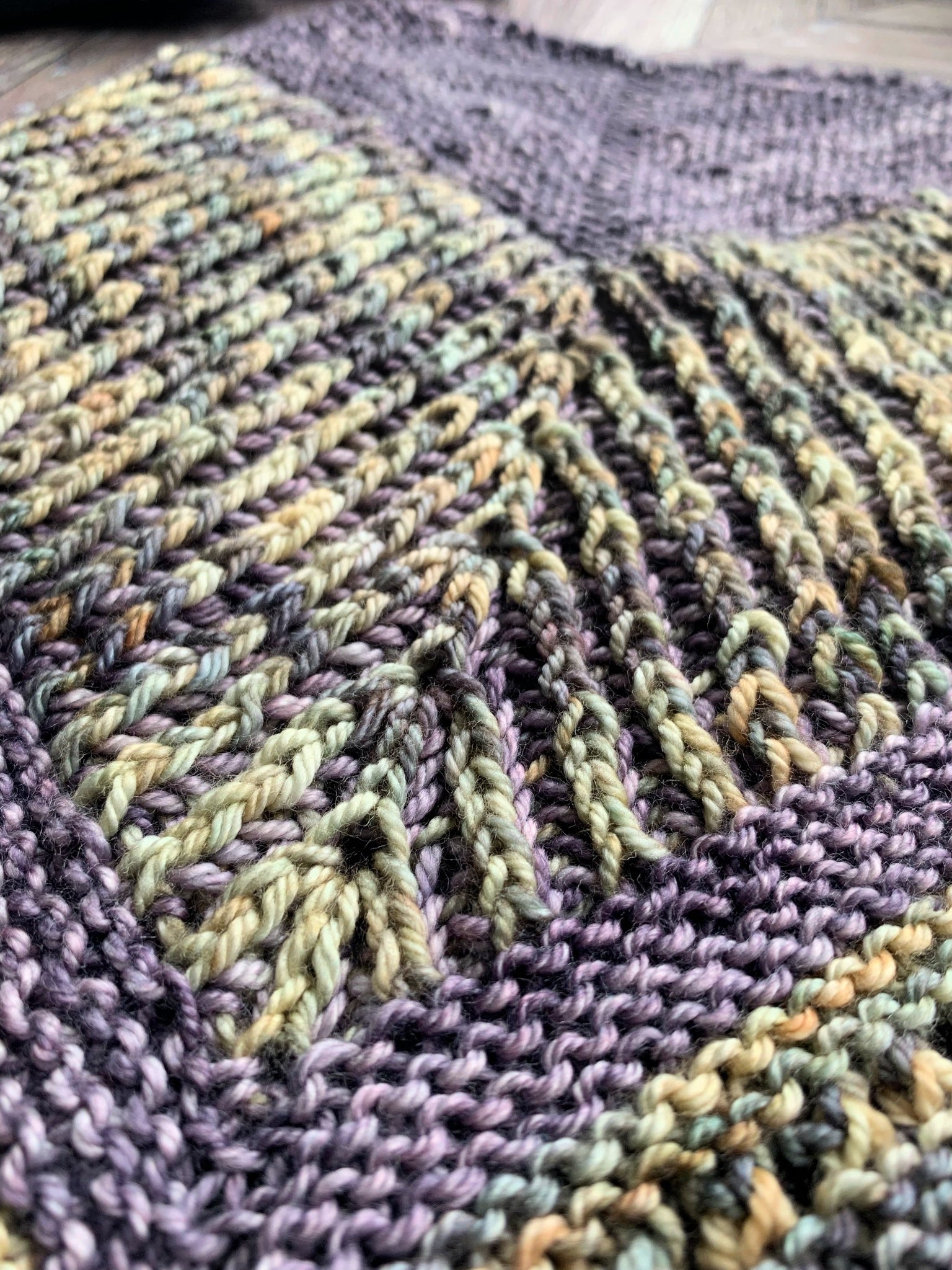 I taught myself to knit brioche and so can you.
A couple of years ago I started noticing a lot of patterns that involved a little to a lot of brioche knitting in them and became intrigued. My first thought was that it was going to be complicated and I would need a whole lot of patience to master this knitting skill. Encouraged by the fact that many of my students were also interested in trying some brioche, I set out to see if I could teach myself how to knit brioche. It turned out not to be nearly as difficult as I imagined thanks to a few designers who have excellent tutorials included in their patterns and on their websites and/or YouTube channels.
First things first, I needed to find a few patterns geared towards the beginner. I did a Ravelry search for easy brioche patterns and found quite a few. I wanted a one colour brioche pattern to start out with that did not need a huge yarn commitment just in case I did not grasp or liked the process. The Waterborn headband pattern by Jacqueline Cieslak turned out to be the perfect pattern. Not only was it the right size but the pattern includes 3 variations so that once you master the basic brioche stitch Brk, you can then move on to simple increases and decreases.
A really great bonus is that there are video tutorials for EVERYTHING in the pattern that are perfect for the beginner. I equipped myself with yarn and needles and jumped right into the videos, cast on as described, did the set up rows as described and then did row after row of the basic brioche stitch without any problems.
The one thing that I would say after teaching myself and others to brioche is that it is easy to get hung up on the sl1yo since you read this abbreviation as slip 1 yarn over and in reality it is a yarn over and then slip one. Jacqueline clearly addresses this in her video tutorials so watch them carefully. This yarn over with its corresponding slipped stitch is treated as one stitch (referred to as a Brk) that will be knit together as one in the next row, Brk (barked) or brioche knit as one. Again, watch the video as it is very clear and easy to follow.
Once I got the hang of Brk-ing I moved on to the increases and decreases, watched the videos and knit some more. The key to successfully doing increases and decreases is remembering that at all times you need to keep your knit purl sequence as in knitting 1x1 ribbing.  So to decrease it involves 3 stitches (2 sts are decreased) in order to maintain the pattern of knit and purl stitches and to increase you need to (k, yo,k) into 1 st to increase by 2 sts. . So what would be a k2tog in regular knitting is a brk3tog in brioche and that decreases your stitch count by 1 brk stitch and 1 purl stitch, 2 altogether. These terms are all explained in the pattern and the list of abbreviations.
The one colour brioche headband worked up very quickly and I immediately wanted to move on to two colour brioche. Thanks to what I learned from knitting the headband, I was able to take that knowledge and start the Kodiak Cowl by Emily, The Blue Mouse. The beginner friendly free pattern includes a video tutorial that will take you through everything you need to know to create a two colour brioche cowl in the round. Again, I watched the video and did exactly what Emily did in the video and before long I was making great progress on my cowl. Everything I needed to know to knit this cowl was in the pattern and in the video tutorial and it was the perfect first 2 colour brioche project in the round. Now I needed to learn how to knit 2-colour brioche flat and for this I choose the Brioche Basix: Scarf by Sosu which is also a free pattern. 
This 2 colour scarf is the perfect pattern for really getting a fuller understanding of the workings of brioche. The pattern clearly describes how light and dark colours are usually used in brioche knitting and then tackles the slightly more involved increases and decreases used, particularly the 4st br dec (4 st dec) which is similar in appearance to a cdd  (centre double decrease) but has a few extra moves in the brioche version. Again, the video clearly demonstrates how to do everything in this pattern and the pattern is very clearly written so that beginner brioche knitters can easily achieve success. I think that once you master these three patterns then you are ready for more advanced brioche patterns.
Brioche projects I have knit
Waterborn by Jacqueline Cieslak
Kodiak Cowl by The Blue Mouse
Brioche Basix: Scarf by Sosu (Susanne Sommer)
Skreppa Cowl by Jennifer Sheils Toland
Flying Foxtail Wrap by Stephen West
Seelig by Katrin Schubert
Island in the Sun by Sosu (Susanne Sommer)
Next in my  queue is Stairway by Susanne Sommer which is in the 52 Weeks of Shawls book.
Brioche Resources
Nancy Marchante
Susu http://www.sosu.at/en/tutorials-en/ Susanne Sommer
Patterns: https://www.ravelry.com/designers/susanne-sommer
The Unapologetic Knitter
Fixing a dropped stitch  https://youtu.be/UBOVRb_qAzI
YouTube Video https://www.youtube.com/c/TheUnapologeticKnitterKnits/videos
Brigit Hampel
The Enabler Queen
This article is part of the Build Your Skills mini workshops.